Product Description
Product Parameters
| | | | | | | | | |
| --- | --- | --- | --- | --- | --- | --- | --- | --- |
| Model Ratio | 10 | 15 | 20 | 25 | 30 | 40 | 50 | 60 |
| 40 | 0.4 | 0.33 | 0.26 | 0.24 | 0.22 | 0.16 | 0.14 | o.12 |
| 50 | 0.65 | 0.52 | 0.40 | 0.37 | 0.34 | 0.27 | 0.24 | 0.20 |
| 60 | 1.00 | 0.82 | 0.65 | 0.59 | 0.54 | 0.45 | 0.40 | 0.32 |
| 70 | 1.60 | 1.35 | 1.10 | 0.96 | 0.82 | 0.67 | 0.61 | 0.52 |
| 80 | 2.20 | 1.78 | 1.36 | 1.28 | 1.20 | 0.90 | 0.80 | 0.75 |
| 100 | 3.60 | 3.10 | 2.60 | 2.35 | 2.10 | 1.68 | 1.30 | 1.00 |
| 120 | 5.20 | 4.35 | 3.50 | 3.25 | 3.00 | 2.20 | 1.90 | 1.50 |
| 135 | 9.75 | 7.85 | 6.00 | 5.50 | 5.00 | 3.69 | 2.89 | 2.30 |
| 147 | 10.71 | 8.43 | 6.18 | 5.71 | 5.23 | 3.84 | 3.09 | 2.52 |
| 155 | 12.80 | 9.90 | 7.00 | 6.53 | 6.00 | 4.40 | 3.61 | 3.00 |
| 175 | 17.30 | 13.60 | 10.00 | 9.13 | 8.30 | 6.18 | 4.85 | 4.07 |
| 200 | 22.60 | 18.20 | 13.86 | 12.75 | 11.67 | 8.78 | 6.71 | 5.58 |
| 250 | 33.20 | 27.40 | 21.60 | 20.00 | 18.43 | 14.00 | 10.43 | 8.62 |
Product Description
Product Description
(1)Worm gear reducer is a power transmission mechanism, the use of gear speed converter, the motor (motor) the number of rotation to slow down to the number of rotation, and get a larger torque mechanism. At present, the application of speed reducer is widely used in the mechanism of transmitting power and motion.
(2)In all kinds of mechanical transmission system can see traces of it, from the transport ships, automobiles, motorcycles, construction heavy machinery, industrial machinery processing equipment and automated production equipment, to the common daily life appliances, clocks and watches, and so forth. Its application from the transmission of large power, to a small load, the precision of the angle of transmission can be seen in the application, and in industrial applications, the reducer has a reduction and increase the torque function. So it is widely used in speed and torque conversion equipmen
The role of main reducer:
1, reduce speed and increase the output torque, torque output ratio of motor output by the deceleration ratio, but should pay attention to not exceed the speed reducer rated torque.
2, deceleration while reducing the load inertia, inertia is reduced to the square of the reduction ratio. We can look at the General Motors has a value of inertia.
Detailed Photos
Parameter
Certifications
| | |
| --- | --- |
| Application: | Electric Cars, Motorcycle, Agricultural Machinery, Car, Power Transmission |
| Layout: | Three-Ring |
| Hardness: | Hardened Tooth Surface |
| Installation: | Torque Arm Type |
| Type: | Worm Gear Box |
| Input Speed: | 1440rpm |
Samples:

US$ 50/Piece

1 Piece(Min.Order)

|
Request Sample
How to Install and Align a Worm Reducer Properly
Proper installation and alignment of a worm reducer are crucial for ensuring optimal performance and longevity. Follow these steps to install and align a worm reducer:
Preparation: Gather all the necessary tools, equipment, and safety gear before starting the installation process.
Positioning: Place the worm reducer in the desired location, ensuring that it is securely mounted to a stable surface. Use appropriate fasteners and mounting brackets as needed.
Shaft Alignment: Check the alignment of the input and output shafts. Use precision measurement tools to ensure that the shafts are parallel and in line with each other.
Base Plate Alignment: Align the base plate of the reducer with the foundation or mounting surface. Ensure that the base plate is level and properly aligned before securing it in place.
Bolt Tightening: Gradually and evenly tighten the mounting bolts to the manufacturer's specifications. This helps ensure proper contact between the reducer and the mounting surface.
Check for Clearance: Verify that there is enough clearance for any rotating components or parts that may move during operation. Avoid any interference that could cause damage or performance issues.
Lubrication: Apply the recommended lubricant to the worm reducer according to the manufacturer's guidelines. Proper lubrication is essential for smooth operation and reducing friction.
Alignment Testing: After installation, run the worm reducer briefly without a load to check for any unusual noises, vibrations, or misalignment issues.
Load Testing: Gradually introduce the intended load to the worm reducer and monitor its performance. Ensure that the reducer operates smoothly and efficiently under the load conditions.
It's important to refer to the manufacturer's installation guidelines and specifications for your specific worm reducer model. Proper installation and alignment will contribute to the gearbox's reliability, efficiency, and overall functionality.
Materials Used for Worm Gears
Worm gears are manufactured using a variety of materials to meet different application requirements. Some commonly used materials for worm gears include:
Steel: Steel is a popular choice for worm gears due to its strength, durability, and wear resistance. It can handle heavy loads and is often used in industrial applications.
Bronze: Bronze offers good lubricity and is commonly used for the worm gear (worm) component. It provides effective wear resistance and works well in applications where quiet operation is essential.
Cast Iron: Cast iron is known for its high strength and durability. It's often used for worm gears in applications where shock loads or heavy-duty conditions are expected.
Aluminum: Aluminum worm gears are lightweight and corrosion-resistant, making them suitable for applications where weight reduction is important.
Plastic: Some worm gears are made from plastic materials such as nylon or acetal. These materials are often chosen for their self-lubricating properties and quiet operation.
Composite Materials: Composite materials can offer a combination of properties, such as lightweight construction and corrosion resistance. They can be suitable for specific applications.
The choice of material depends on factors such as the application's load, speed, operating environment, and required performance characteristics. It's important to consider these factors when selecting the appropriate material for worm gears to ensure optimal performance and longevity.
What Industries Commonly Use Worm Reducers?
Worm reducers are versatile mechanical components that find applications in various industries due to their unique advantages and capabilities. Some of the industries that commonly use worm reducers include:
Material Handling: Worm reducers are widely used in material handling equipment such as conveyors, bucket elevators, and cranes to control movement and manage heavy loads.
Automotive: They are utilized in automotive manufacturing processes, assembly lines, and vehicle positioning systems.
Food and Beverage: Worm reducers are used in food processing and packaging machinery where hygiene and cleanliness are crucial.
Agriculture: Agricultural equipment like irrigation systems and tractors use worm reducers for controlling rotational motion.
Mining and Construction: Heavy-duty applications in mining equipment, excavators, and construction machinery benefit from the torque multiplication provided by worm reducers.
Energy: Wind turbines and solar tracking systems use worm reducers to convert low-speed, high-torque motion into rotational energy.
Textile: Textile machinery employs worm reducers for controlling speed and tension in weaving and spinning operations.
Packaging: Packaging equipment relies on worm reducers for precise movement and positioning of packaging materials.
Medical: Medical devices and equipment often utilize worm reducers for their accuracy and controlled motion.
Printing: Printing machines use worm reducers to regulate paper feed and ensure consistent printing quality.
Worm reducers' ability to provide high torque output, compact design, and self-locking characteristics makes them suitable for applications requiring reliable and controlled motion across various industries.



editor by CX 2023-09-21
Product Description
Product Description
high torque transmission stainless steel heavy duty helical gearbox Planetary gear reducers for DC motor
HangZhou Fubao Electromechanical Technology Co., Ltd. helical gearbox Planetary gear reducers is a new generation of practical products independently developed by our company:
Low noise: less than 65db.
Low back clearance: up to 3 arc minutes in a CZPT and 5 arc minutes in a double stage.
High torque: higher than the standard planetary reducer torque.
High stability: high strength alloy steel, the whole gear after hardening treatment, not only the surface hard substitution.
High deceleration ratio: Modular design, planetary gearbox can be interlinked.
helical gearbox Planetary gear reducers characteristic:
1.Planetary reducer manufacturer-Fubao Electromechanical Technology adopts an integrated planetary carrier and output shaft, which can provide better torsional rigidity. After precision machining, the gear set is not easy to eccentric, which can reduce interference, reduce wear and noise, and at the same time use a large The bearings are arranged with a wide span to distribute the load of the bearings, and once again strengthen the torque rigidity and radial load capacity of the helical gearbox Planetary gear reducers. The output cover is made of aluminum alloy, which provides better heat dissipation capability for the product, so that the reducer produced by Fubao Electromechanical Technology can play an excellent role in the field of mechanical tools.
2.The planetary gear set is specially made of alloy steel. First, it undergoes quenching and tempering heat treatment to make the material hardness reach HRC30 degrees, and then undergoes nitriding surface treatment to HV860, so that the product has the characteristics of high surface hardness and high toughness in the center, and achieves the best product strength and service life. optimization.
3.The input shaft and the motor output shaft are connected by a bolted structure, with a round shaft seal design, and through dynamic balance analysis, it can ensure that there is no eccentric load at high speeds. After reducing unnecessary radial force, it can effectively Reduce the load on the motor side.
4.The material of the input cover/motor connection seat is made of aluminum alloy, which can provide better heat dissipation effect, and then provide good concentricity and verticality through professional lathe processing, so that the product can be stably combined with various motors, reducing the damage caused by insufficient precision. Unnecessary axial radial force makes the product have a longer life cycle.
Compared with other reduction machines, helical gearbox Planetary gear reducers machines have high rigidity, high precision (single stage can be achieved within 1 point), high transmission efficiency (single stage in 97-98%), high torque/volume ratio, lifetime maintenance free and other characteristics.
Because of these characteristics,helical gearbox Planetary gear reducers is mostly installed on the stepper motor and servo motor, used to reduce speed, increase torque, matching inertia.
Product Parameters
WVB/WVBL series parameters
Model number
WVB042/WVBL50
WVB60/WVBL70
WVB/WVBL90
WVB/WVBL120
WVB142/WVBL155
WVB180/WVBL205
WVB220/WVBL235
Rated output torque
13-17Nm
32-48Nm
80-125Nm
165-265Nm
280-530Nm
480-960Nm
900-1360Nm
Reduction ratio
L1: 3, 4, 5, 7, 10
L2: 12, 15, 20, 25, 30, 35, 40, 50, 70, 100
Planetary gear backlash
L1: P1≤3 P2≤5  L2: P1≤5 P2≤7
Detailed Photos
Product Details
Other products
Company Profile
HangZhou Fubao Electromechanical Technology Co., Ltd. was established in 2008, the company has a complete precision reducer design, production capacity. Set R & D, manufacturing, assembly and sales, more in the field of gear manufacturing has more than 10 years of background, in the manufacturing equipment is equipped with Switzerland Riesenhahl gear grinding machine, domestic Qinchuan gear grinding machine, hamai gear hobbing machine and domestic Xihu (West Lake) Dis. gear hobbing machine, Japan Yasaki TLGmazak CNC lathe, CNC milling machine and other fully CNC equipment, In addition, it is equipped with other advanced measuring equipment such as Japanese TTI gear detector, 3 coordinate measurement, reducer backlash measurement instrument and so on. In a strong manufacturing capacity at the same time, can be stable, continuous manufacturing of high-quality precision reducer products.
The precision reducer produced by our company has the characteristics of high structural rigidity, small back backlash, precise transmission and so on. It is widely used in various industries. Companies adhering to the concept of let customers participate in manufacturing, and strive to provide customers with more personalized services. In the field of precision transmission has a unique achievements. It is our CZPT pursuit to make far-reaching contributions.
Factory Display
FAQ
Q: Speed reducer grease replacement time
A: When sealing appropriate amount of grease and running reducer, the standard replacement time is 20000 hours according to the aging condition of the grease. In addition, when the grease is stained or used in the surrounding temperature condition (above 40ºC), please check the aging and fouling of the grease, and specify the replacement time.
Q: Delivery time
A: Fubao has 2000+ production base, daily output of 1000+ units, standard models within 7 days of delivery.
Q: Reducer selection
A: Fubao provides professional product selection guidance, with higher product matching degree, higher cost performance and higher utilization rate.
Q: Application range of reducer
A: Fubao has a professional research and development team, complete category design, can match any stepping motor, servo motor, more accurate matching.
Shipping Cost:

Estimated freight per unit.





To be negotiated
| | |
| --- | --- |
| Application: | Motor, Machinery, Agricultural Machinery, Palletizing Robot |
| Hardness: | Hardened Tooth Surface |
| Installation: | Vertical Type |
| | |
| --- | --- |
| Customization: | |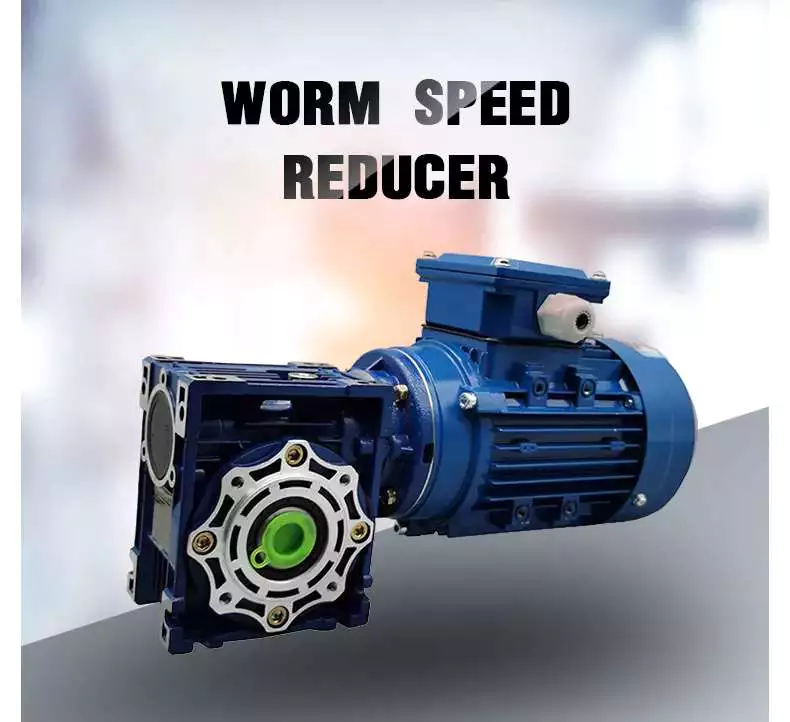 Worm reducer gearbox – What You Need to Know
When shopping for a Worm reducer gearbox, it is important to consider the functions and features of the unit. It is also important to take into account its cost. We will take a look at the different types of worm reducer gearboxes and the applications that they can be used for. This will help you choose the right unit for your application.
Features
Worm gears are popular in instruments that require fast stopping, such as elevators and lifts. Their soft materials allow them to absorb shock, which reduces the likelihood of failure. They are also beneficial in heavy-duty machines, such as rock crushers. Some manufacturers offer special worms with zero backlash and high-accuracy reduction.The worm reducer gearbox has a variety of features, including an axial pitch and a circular pitch. The axial pitch of the worm must match the circular pitch of the larger gear. Its threads are left or right-handed, and its lead angle is the distance a point on the thread travels during a revolution of the worm.The worm gear reducer gearbox is widely available, and gear manufacturers typically maintain a large inventory of them. Because worm gears are standardized, their mounting dimensions are generally uniform across manufacturers. This means that choosing one will not require you to change the height, length, or diameter of the output shaft. Worm gear reducer gearboxes also have dimensional consistency.Worm gears are very efficient. They have a high load capacity and a low friction coefficient. The worm gears also have a precise tooth profile, which reduces speed fluctuations and allows for quiet operation.
Functions
Worm gears have different functions. They can be used in a variety of applications. For instance, they can be used in elevators to reduce the load on the elevator. These gears also have low noise levels because they are made of dissimilar metals. Moreover, these gears can be used in elevators because they are suitable for this type of application. However, they need a single stage reducer gearbox to function properly.Another important feature of a worm reducer gearbox is that it can operate in reverse. This means that the input shaft turns backwards, while the output shaft rotates forwards. Examples of such applications include hand-cranked centrifuges, blacksmithing forge blowers, and the wind governor of musical boxes. Worm gears are available in different shapes and sizes, from gearsets to housed units. They can also be configured as multi-speed designs. Some manufacturers also offer special precision and zero-backlash worms.A worm reducer gearbox's tooth form is important in determining the capacity of the device. Typically, a single-lead worm gear has the same lead on the left and right tooth surfaces, although a dual-lead worm gear has different leads on each side. This feature helps to eliminate play in the worm gear. However, it is important to note that a worm reducer gearbox can be manufactured with different tooth shapes for different applications.The worm gear is an alternative to conventional gears. It operates in a similar fashion to ordinary gear drives. The main advantage of a worm gear is that it is able to reduce the rotational speed and torque of a rotating shaft. It also has the added benefit of being able to transfer motion at an angle of 90 degrees. The only drawback of a worm gear is that it cannot reverse motion.
Applications
This market report analyzes the Worm reducer gearbox market from a global perspective. It includes a comprehensive analysis of the current market trends and future growth prospects. It also provides information about the competitive landscape and the main players in the industry. The report also highlights the key factors affecting the growth of the Worm reducer gearbox market.
The major regional markets for the Worm reducer gearbox include North America, Asia-Pacific, the Middle East and Africa, Latin America, and Europe. The market in these regions is likely to remain stable with a limited growth over the next few years. A worm gear is a small mechanical device that is connected to a larger gear. When connected together, it produces a low output speed but high torque.The gearing on a worm drive can be right-hand or left-hand, and can turn clockwise or counter-clockwise. Depending on the worm's helix angles, back-driving and friction can be reduced. Worm gears are available in housed units or in gearsets. Some manufacturers offer integrated servomotors and multi-speed designs. High-accuracy and zero-backlash worms are available.Worm gears are particularly popular in instruments that require fast stops. They are also commonly found in elevators and lifts. Their soft nature and low-shock characteristics make them highly suitable for these types of machines.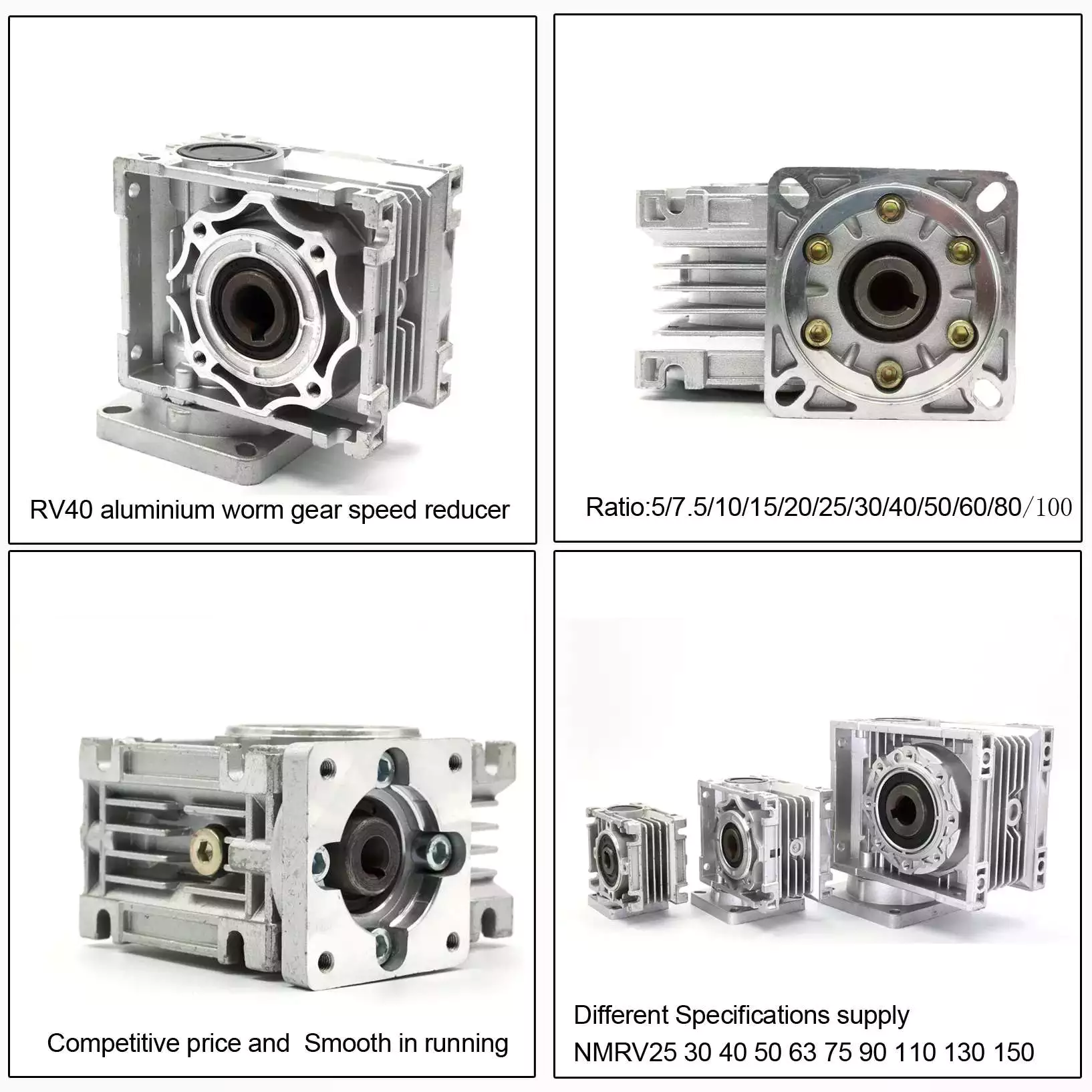 Cost
Cost is an important consideration when selecting a worm reducer gearbox. The initial cost of a worm gear reducer gearbox is considerably lower than other types of gear reducer gearboxes. Worm gear reducer gearboxes are also more energy-efficient, and have higher overload capacities than competitive systems. The following are factors that affect the cost of a worm gear reducer gearbox.Stainless steel worm gear reducer gearboxes from Agknx offer great value for the money. They offer flange input and hollow output bore sizes, as well as center distances ranging from 1.75″ to 3.25″. In addition to the standard version, a stainless steel bushing kit is available, which allows users to use a wider range of head shaft sizes. Stainless steel worm gear reducer gearboxes are available in stock from all six of Agknx's regional warehouses. They also come with free prepaid freight.Worm gear reducer gearboxes are often used in power transmission systems, elevators, conveyor belts, and medical equipment. In these applications, they are used to control the speed of a load and prevent it from freefall. While worm gear reducer gearboxes are not as efficient as helical gearboxes, they are still very useful for applications that require high torque or high output rates.To select the right type of worm for your application, you should consider the number of teeth it contains. It's best to select worms with a combined total of 40 teeth or more.
aspect
Worm reducer gearboxes vary in size. They have one, two or more threads. Each thread has a lead angle. A high ratio has more teeth than a low gear, and a low ratio has fewer teeth. These differences are the result of gearing. The size of the worm gear reducer gearbox should be selected according to the specific application.The worm gear reducer gearbox saves space and provides more torque. Agknx Gearbox has created a variety of models to overcome common deceleration challenges, from standard to hygienic markets. The superior transmission Agknx range is designed to solve common deceleration challenges and expand to meet the needs of the sanitary industry.The diameter of the worm reducer gearbox is an important consideration. Its diameter should be equal to or slightly larger than the diameter of the grinding wheel or tool. This will affect the pressure angle. The pressure angle on a worm reducer gearbox depends on several factors, including its diameter and lead angle. The diameter of the grinding wheel or tool also has an effect on the profile of the worm.Worm gear reducer gearboxes are common. Many gear manufacturers have large stocks of these gear reducer gearboxes. Since gears are standardized, the mounting dimensions of worm gears are also common among manufacturers. This makes it easy to select a worm gear reducer gearbox for your application. In addition, the worm gear reducer gearbox is easy to install and maintain.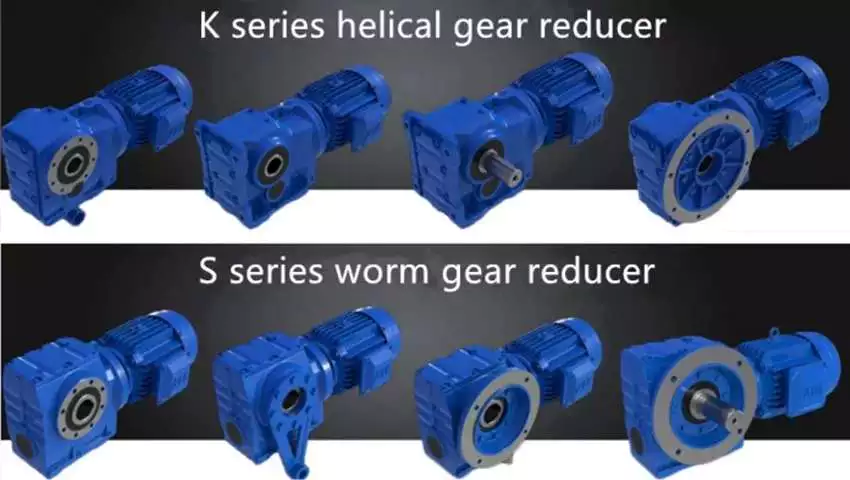 Worm gear reducer gearbox oil
Worm gear reducer gearboxes usually use gear oil. Several types of gear oils are available, including synthetic, polyalkylene glycol, and mineral oils. The oil used in the worm gear reducer gearbox must have the right viscosity for the gear. Some oils are more corrosive than others and should be avoided if the environment is toxic.The oil of the worm gear reducer gearbox must be protected against corrosion, wear and friction. It is best to choose a lubricant with low friction rate, high oxidation resistance and good anti-wear protection. While mineral oils are the most common type of lubricant, synthetic base oils can improve gear efficiency and reduce operating temperatures. This is because the Arrhenius rate rule states that the chemical reaction in the oil doubles for every 10 degrees Celsius increase in temperature.Worm gear reducer gearboxes are available in a variety of sizes and configurations. They are suitable for all kinds of machines and equipment. The sliding action between the worm gear and the output shaft produces high torque and high efficiency. If the transmission speed is low, the worm gear and output shaft can be combined for maximum efficiency.Worm gear reducer gearboxes require less frequent oil changes than other types of gear reducer gearboxes. However, regular oil should be changed every six months or 2,500 hours, whichever comes first. Also, it is a good idea to regularly monitor the oil level to prevent lubrication-related gearbox failures. It's also wise to use synthetic oil, as it will last longer between oil changes.



editor by CX 2023-05-31
Solution Description
EP Collection Planetary Gearbox Appropriate Angle With Flange Mounted DC And AC variety In Line Energy Transmission Reducer Excellent Value Substantial Quality Market Planetary Gearbox
The use of planetary equipment drives in the area of power Transmission is the modern answer to the demand for Compactness constructive simplicity and item trustworthiness.
The EP3 collection planetary gearbox drives by At any time-Power Transmission Co., Ltd take pleasure in adhering to functions:
Output torque Variety: 1 N.m
Transmissible Mechanical Power: up to 450 kW
Gear Ratios: i=3,3 … 9000
Equipment Unit Variations: In line
Appropriate angle (with a spiral bevel equipment established)
Output Configuration:
Foot and flange mounted
Output shaft: solid with essential, spline, spline hollow,
hollow with shrink disc
Enter Configurations
Flanged axial piston hydraulic motors
Hydraulic orbit motors
IEC and Nema motor adaptors
Strong input shaft
Hydraulic Brake: Hydraulically released parking brake on ask for
Electric powered Brake: DC and AC sort
US $10-999




/ Piece




|

100 Pieces



(Min. Order)

###
| | |
| --- | --- |
| Application: | Motor, Electric Cars, Motorcycle, Machinery, Marine, Agricultural Machinery, Car |
| Function: | Distribution Power, Clutch, Change Drive Torque, Change Drive Direction, Speed Changing, Speed Reduction, Speed Increase |
| Layout: | Coaxial |
| Hardness: | Hardened Tooth Surface |
| Installation: | Horizontal Type |
| Step: | Three-Step |
###
US $10-999




/ Piece




|

100 Pieces



(Min. Order)

###
| | |
| --- | --- |
| Application: | Motor, Electric Cars, Motorcycle, Machinery, Marine, Agricultural Machinery, Car |
| Function: | Distribution Power, Clutch, Change Drive Torque, Change Drive Direction, Speed Changing, Speed Reduction, Speed Increase |
| Layout: | Coaxial |
| Hardness: | Hardened Tooth Surface |
| Installation: | Horizontal Type |
| Step: | Three-Step |
###
Worm gear reducer gearbox
Cheaper than planetary gearboxes In many cases, worm gear reducer gearboxes are a popular alternative to planetary gearboxes. A worm gear reducer gearbox is a mechanical device with vertical input and output shafts. This allows for very high reduction ratios. They are typically used in high-reduction situations such as machine tools.
Worm gears are cheaper than traditional gearboxes. They also have many benefits, including noise reduction. The output shaft of the worm gear reducer gearbox is almost 90 degrees from the motor input shaft, making it ideal for high-torque applications.
The worm gear reducer gearbox adopts an aluminum body, which is light in weight and high in operation efficiency. Additionally, they are available with hollow shafts and mounting flanges. In terms of initial cost, worm gear reducer gearboxes are cheaper than planetary gearboxes. In addition, they have better efficiency and longer service life.
Worm drives are also ideal for portable battery-powered lifting equipment. The high gear ratio of the worm gear ensures that it does not reverse drive. The worm gear has a spring-applied brake that holds the motor in place.
Planetary gearboxes are popular among industrial users. The efficiency of planetary gearboxes is important for practical applications.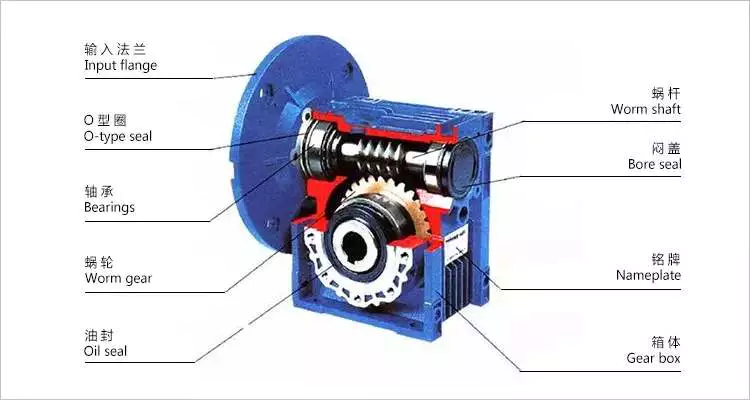 pocket
The compact worm gear unit consists of a housing with an inner cavity. It has two side walls, one on either side of the front cover (13) and one on both sides of the rear cover (14). The front end cap is screwed onto the housing and the inner cavity is accessed through the rear end cap.
The compact worm gear unit can be configured to suit your application. They have many advantages, including saving space and increasing torque. The range includes single-envelope and double-envelope versions, available in a number of different power ratings. Additionally, they are IP65-rated, making them ideal for applications involving high radial or axial forces.
The compact worm reducer gearbox is a simple but effective worm drive. Its worm gear 16 meshes with the output shaft and rotates relatively stably. It also has a front-end cap and rear bearing. This enables the compact worm reducer gearbox to reduce vibration without damaging the output shaft.
Compact worm gear reducer gearboxes are ideal for many applications and offer high efficiency. The compact design means you can mount them on the motor's flange or base. Its durable construction makes it ideal for a variety of industries. They are extremely durable and can handle high-pressure and washdown conditions. They also come standard with a synthetic shaft.
high efficiency
High-efficiency worm gear reducer gearboxes are ideal for applications that require precision, repeatability, and efficient performance. These reducer gearboxes are designed with state-of-the-art servo motor technology to provide tight integration and an angular backlash of less than two arc minutes. The reduction ratio can be lower if the application requires it.
Rising energy costs have led to an increased focus on the efficiency of drives. In response to this, manufacturers have increased the efficiency of worm gear reducer gearboxes through a number of technical improvements. By minimizing losses from rolling and sliding friction, worm gear reducer gearboxes are more efficient than their counterparts.
The high-efficiency worm reducer gearbox is simple in design and has the characteristics of a compact structure, high-speed ratio, low power consumption, and self-locking. Other advantages of these reducer gearboxes include low noise and long service life. Many also have built-in control systems that allow manual and remote adjustments. They also feature automatic shutdown protection and thermal protection.
High-efficiency worm reducer gearboxes can be used for mechanical acceleration. The input hypoid gear is usually made of steel, while the output hypoid gear is usually made of bronze. Bronze is a soft metal that is good at absorbing shock loads. However, bronze requires work hardening to achieve optimum hardness. For large worm gears, this process can take 300 to 550 hours.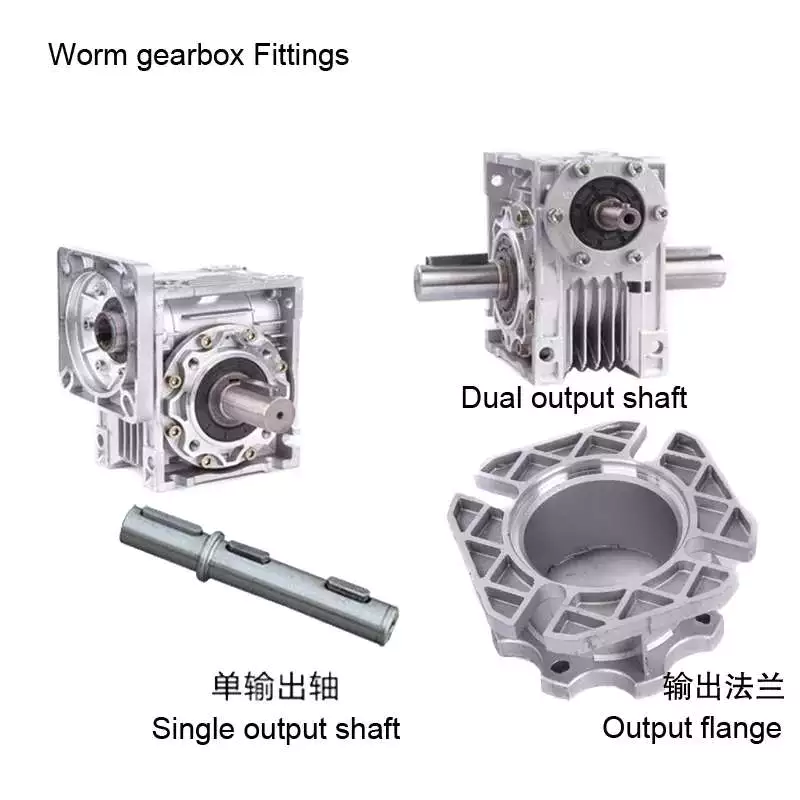 low clearance
A low-clearance worm reducer gearbox is a device used to adjust the speed of a rotating shaft. It uses a worm gear consisting of two members. One worm is at one end of the shaft and the other is at the other end. Both worms are screwed into the synchronous drive structure.
Low clearance worm gear reducer gearboxes can be produced on conventional worm gear production lines without overlapping investments. These units are usually made of soft rubber. Also, they are relatively quiet in operation. These machines are designed so that they are suitable for use in elevators. The softer material in the worm gear also helps absorb shock loads.
The tooth profile of the worm gear is designed to change with the axial movement of the worm. Worms have thinner right teeth and thicker left teeth. As the worm moves to the right, its teeth mesh with the worm gear, reducing backlash.
There are many different types of worm gears. The design of gears depends on many factors, including backlash, thermal design, friction factors and lubrication. Worm gears are made of several different materials. Some different types of materials used in worm gears require special lubrication.
quieter
The quieter worm reducer gearbox is designed to reduce the noise level of the rotating gear motor. The device has more gear teeth in meshing contact with the gears, which helps it run more quietly. In addition to being quieter than other transmissions, it's also less expensive than its counterparts.
Worm gearboxes can be used for different applications, but they are not as efficient as helical gearboxes. Worm reducer gearboxes are cheaper but less than 90% efficient. Higher gear ratios reduce efficiency, so worm gear reducer gearboxes are better suited for applications that require low-speed torque. The cost of buying a worm gearbox will depend on the horsepower and gear ratios required.
Worm reducer gearboxes are also more comfortable to use than planetary gearboxes. They don't vibrate and heat up quickly, making them an excellent choice for low to medium horsepower applications. Worm gear reducer gearboxes can be upgraded to improve their performance by combining with other gear trains or gearboxes.


easy to replace
An easily replaceable worm gear reducer gearbox can save you a lot of money. A worm gear reducer gearbox is part of a chain drive and allows you to change gear ratios quickly and easily. Worm gear reducer gearboxes can be easily replaced in a number of ways. It's a good idea to read the manufacturer's manual before replacing a worm gear reducer gearbox. Make sure you have the instructions available so you can refer to them in the future.
Worm gear reducer gearboxes offer many advantages, including long service life and low noise. They are also designed with a 90-degree output shaft for easy installation. Another advantage of these gear reducer gearboxes is that they can be used with both solid and hollow output shafts. This means less maintenance and downtime.
Worm gear reducer gearboxes are widely used. Most gear manufacturers have large inventories. Worm gears also have uniform mounting dimensions. Dimensional consistency means you don't have to worry about matching the shaft length and diameter to the worm gear. You can easily find a replacement worm gear reducer gearbox for your equipment.
When replacing the worm gear reducer gearbox, check the lubricating oil recommended by the machine. If not included, use original gear oil. Be sure to follow the manufacturer's instructions carefully.



editor by czh 2023-01-04